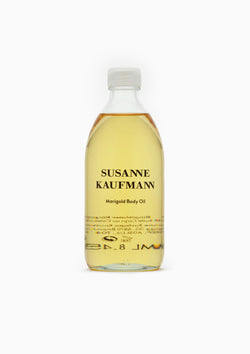 Marigold Body Oil | 100ml
This body oil made from marigold oil, rosehip seed oil and jojoba oil is a vitalizing and regenerating skin care product made from valuable, natural oils. It supports the skin in retaining moisture. The combination of precious oils makes the skin healthy and elastic. It strengthens the function of skin protection and saves against damaging environmental influences. A consciously produced oil extract from St. John's wort also makes the oil especially suited for sensitive skin.
Application: The nourishing oil can be distributed in the most even manner on damp skin. The resulting water/oil emulsion can be absorbed more easily into the skin.

Susanne Kaufmann's eponymous, holistic skincare range is hand-finished in Austria's Bregenz Forest Mountains. Formulated for targeted results, each product is packed with organic, energy-rich oils and locally sourced active plant ingredients - including Chamomile, Sage and St. John's Wort, recognized for their nourishing, regenerative effects.