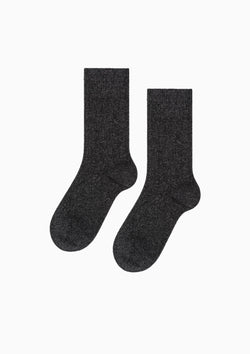 Italia Cashmere Cozy Rib Crew Socks | Charcoal
These socks are made with a high percentage of cashmere which by nature, is a fine and delicate yarn. For longevity, Hansel from Basel's Italia Cashmere Crews are intended to be a luxurious lounge sock with a recommended hand wash. We suggest pairing with an easy lightweight shoe vs. a hard sole that may cause excessive friction. 

Made of 85% Italian recycled cashmere, don't be fooled by the simplicity of these crews, your feet will thank you! Made in Portugal at a small family-run factory that operates entirely on renewable energy.
85% Recycled Cashmere/ Polyamide/ Wool blend

Hand Wash, Hang to Dry

Made in Portugal