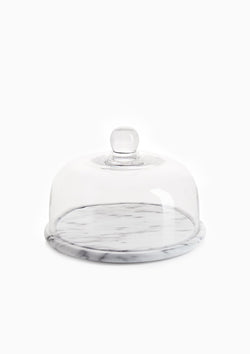 Serveware
White Marble & Glass Cloche
Bring out the best in fine cheese, Gallic-style. This classic sets a handmade glass hemisphere with generous knob handle atop a circle of white, uniquely veined solid marble. Not only great for displaying and serving cheese, the dome allows the cheese to breath, creating its own microclimate with just the right humidity for storing and ripening favorite varieties to perfection. Because marble is a natural product, veining and coloring variations will occur; see additional images for examples.
Overall Dimensions
Height: 7.75"
Diameter: 11.25"
Platter
Height: 0.75"
Diameter: 11.25"
Dome
Height: 7"
Diameter: 10.5"
Food shouldn't be stored on marble.

For cleaning, we recommend a hot soapy solution (Dawn/water), or a baking soda paste, or hydrogen peroxide and warm water.