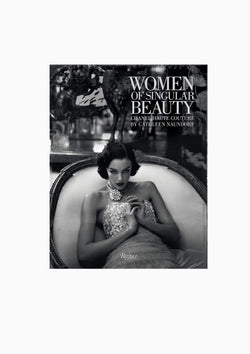 Women of Singular Beauty: Chanel Haute Couture
A spellbinding journey into the world of Chanel haute couture, captured by one of fashion's most acclaimed photographers.


In exclusive shoots with the house of Chanel, photographer Cathleen Naundorf gained rare access to their haute couture collections--which entail thousands of hours of handwork, crafting, and embellishing. The result: a book of ethereal, cinematic photographs of gowns against theatrical backdrops that capture the ensembles' exquisiteness and the magical allure of haute couture. This is what sartorial dreams are made of.

For more than two decades, Naundorf has used her expert photographic skills to pay homage to the haute couture aesthetic. Combining her experiences in travel, art, and photojournalism, Naundorf elaborately arranges each detail of her images using storyboards and extensively researches the lighting for every image. Captured with analogue large-format cameras, each photograph is a singular vision suggesting romance, surrealism, exoticism, and above all else, fantasy.