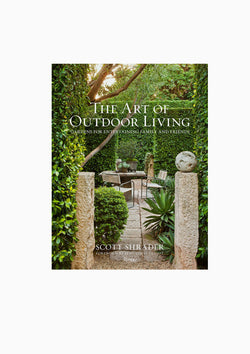 The Art of Outdoor Living
For anyone who wants to live well in their garden, here is a guide to creating stylish and livable outdoor spaces--for entertaining, playing, and relaxing.


Pools made private by lush plantings, bedrooms open to the back yard, bar seating by the outdoor oven. California native and exterior architect Scott Shrader is known for creating covetable outdoor rooms for clients including Ellen DeGeneres and Patrick Dempsey. In his first book, he shares the grounds of twelve beautiful properties, all designed to be lived in and enjoyed as extensions of the homes they surround, rich with creature comforts. Shrader shows us how to connect the landscape outside with interior decor; resulting in an exterior environment that flows naturally, stylishly and serenely from this core. He also inspires us to think of the way these outdoor spaces will be used, and plan ahead for ways to keep our family and guests fed, warm, and entertained in them. Folded in between the featured gardens--which range in style from Hollywood Regency to Modern Moroccan--are meditative essays on topics including Sustainability, Lifestyle, and Pathways, as Shrader reflects on the ways that gardens change constantly in small ways, shifting mood with the light and the weather, transforming dramatically with the cycle of the seasons and the passage of years. These are modern, chic gardens and outdoor entertainment spaces specifically designed for cooking, entertaining, playing, and relaxing.